Ten years after the fact, the April 16 shootings have become a singular unit in the Virginia Tech ethos. The community commemorates the tragedy as a whole rather than as 32 individual deaths and 23 non-fatal injuries. This piece explores the minute-by-minute breakdown of the incident, commemorating the singular tragedies, heroes, and critical decisions university and emergency officials had to face on April 16, 2007.
Timeline events are taken from the Virginia Tech Review Panel's 2007 "Mass Shootings at Virginia Tech" report to then-Gov. Tim Kaine.
<! ========= Cool Timeline Free 2.7.1 =========>
Timeline
Around 5:30 a.m.
One of Cho's other suitemates notices Cho clad in boxer shorts and a shirt, brushing his teeth and applying acne cream. Cho returns from the bathroom, gets dressed and leaves.
7:02 a.m.
Emily Hilscher enters WAJ after being dropped off by her boyfriend (the time is based on her swipe card record).
About 7:15 a.m.
Cho shoots Hilscher in her room at WAJ. He also shoots Ryan Christopher Clark, a residential advisor. Clark, it is thought, most likely came to investigate noises in Hilscher's room, which is next door to his. Both of the victims' wounds prove to be fatal.
7:17 a.m.
Cho's access card is swiped at Harper Hall. He goes to his room to change out of his bloody clothes.
7:20 a.m.
The Virginia Tech Police Department receives a call on its administrative telephone line advising that a female student in WAJ had possibly fallen from her loft bed. The caller was given this information by another WAJ resident near Hilscher's dorm room who heard the noise.
7:24 a.m.
The VTPD officer arrives at Hilscher's dorm room in WAJ, finds two people shot inside the room and immediately requests additional VTPD resources.
7:25 a.m.
Cho accesses his university email account (based on computer records). He erases his files and the account.
7:26 a.m.
VT Rescue Squad 3 arrives on scene outside WAJ.
7:29 a.m.
VT Rescue Squad 3 arrives at Hilscher's room.
7:30 – 8:00 a.m.
A friend of Hilscher's arrives at WAJ to join her to walk to chemistry class. The friend is questioned by detectives and explains that on Monday mornings, Hilscher's boyfriend would drop her off and go back to Radford University where he was a student. She tells police that the boyfriend is an avid gun user. This leads the police to seek him as a "person of interest" and potential suspect.
7:30 a.m.
Additional VTPD officers begin arriving at Hilscher's room. They secure the crime scene and start a preliminary investigation. Interviews of residents find that they are unable to provide a suspect description. No one on Hilscher's floor in WAJ saw anyone leave Hilscher's room after the initial noise was heard.
7:57 a.m.
Flinchum notifies the Virginia Tech Office of the Executive Vice President of the shootings. This triggers a meeting of the university's policy group.
8:00 a.m.
Classes begin. Flinchum arrives at WAJ and finds VTPD and BPD detectives on the scene and the investigation underway. A local special agent of the state police has been contacted and is responding to the scene.
8:10 – 9:25 a.m.
Flinchum provides updated information via phone to the Virginia Tech Policy Group regarding progress made in the investigation. He informs them of a possible suspect, who is probably off campus.
8:11 a.m.
Blacksburg Police Chief Kim Crannis arrives on scene.
8:15 a.m.
Flinchum requests the VTPD Emergency Response Team (ERT) to respond to the scene and then to wait at the BPD in the event an arrest is needed or a search warrant is to be executed.
8:16 – 9:24 a.m.
Officers search for Hilscher's boyfriend. His vehicle is not found in campus parking lots, and officers become more confident that he has left the campus. VTPD and BPD officers are sent to his home; he is not found. A BOLO (be on the lookout) report is issued to BPD and the Montgomery County Sheriff's Office for his vehicle. Meanwhile, officers continue canvassing WAJ for possible witnesses. VTPD, BPD and the Virginia State Police (VSP) continue processing the crime scene and gathering evidence. Investigators secure identification of the victims.
8:19 a.m.
Crannis requests BPD ERT to respond for the same reason as the VTPD ERT.
8:20 a.m.
A person fitting Cho's description is seen near the Duck Pond on campus.
8:25 a.m.
The Virginia Tech Policy Group meets to plan on how to notify students of the homicides.
8:52 a.m.
Public schools in Blacksburg lock their outer doors upon hearing of the incident at WAJ from their security chief, who had heard of the incident on police radio.
9:00 a.m.
The Policy Group is briefed on the latest events in the ongoing dormitory homicide investigation by the VTPD.
9:01 a.m.
Cho mails a package from the Blacksburg post office to NBC News in New York that contains pictures of himself holding weapons, an 1,800-word rambling diatribe and video clips in which he expresses rage, resentment and a desire to get even with oppressors. He alludes to a coming massacre. Cho prepared this material in the previous weeks. The videos are a performance of the enclosed writings. Cho also mails a letter to the English department attacking Professor Carl Bean, with whom he previously argued.
9:05 a.m.
Classes begin for the second period across campus, including in Norris Hall.
9:15 a.m.
Both police ERTs are positioned at the BPD (next door to campus) in anticipation of executing search warrants or making an arrest.
9:24 a.m.
A Montgomery County deputy sheriff initiates a traffic stop of Hilscher's boyfriend, Karl Thornhill, off campus in his pickup truck. Detectives are sent to assist with the questioning.
9:25 a.m.
A VTPD police captain joins the Virginia Tech Policy Group as police liaison and provides updates as information becomes available.
9:26 a.m.
Virginia Tech administration sends an email to campus staff, faculty and students informing them of the dormitory shootings.
9:31 – 9:48 a.m.
A VSP trooper arrives at the traffic stop of Thornhill and helps question him. A gunpowder residue field test is performed on him and the result is negative.
9:40 until about 9:51 a.m.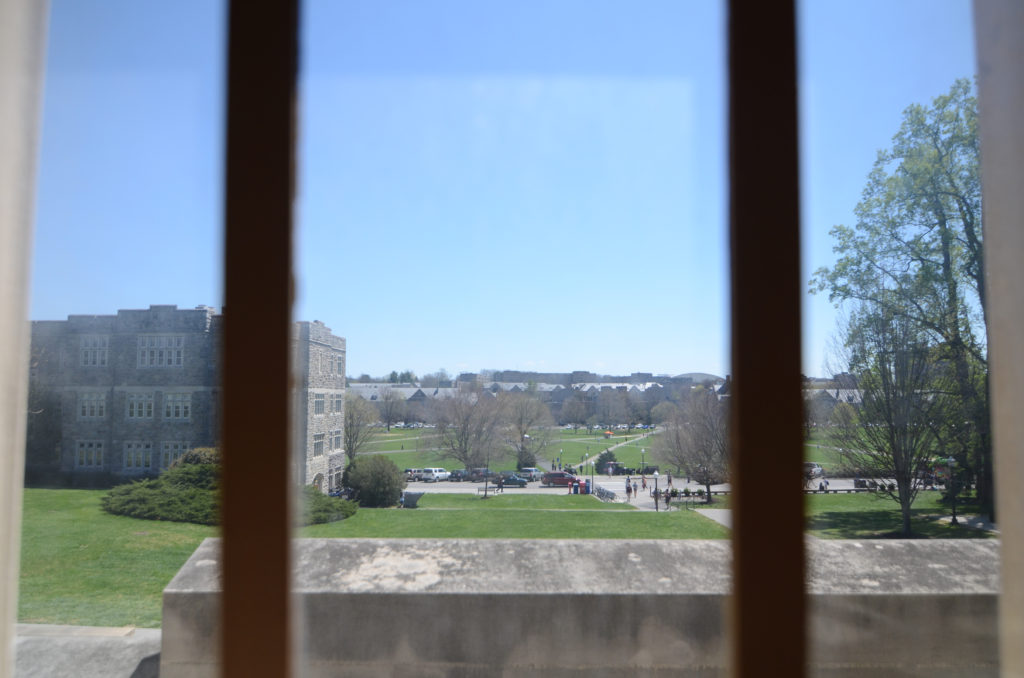 Cho goes across the hall from room 206 and enters room 207, an elementary German class. He shoots instructor Christopher James Bishop and students near the front of the classroom, then starts down the aisle, shooting others. Cho leaves the classroom to go back into the hall.
Students in room 205, attending Haiyan Cheng's class on issues in scientific computing, hear Cho's gunshots. (Cheng was a graduate assistant substituting for the professor that day.) The students barricade the door and prevent Cho's entry despite his firing at them through the door.
Meanwhile, in room 211, Jocelyne M. Couture-Nowak is teaching French. She and her class hear the shots, and she asks student Colin Goddard to call 911. A student tells Couture-Nowak to put the desk in front of the door, which is done, but Cho manages to nudge the door open. Cho walks down the rows of desks shooting people. Goddard is shot in the leg. Student Emily Haas picks up the cell phone Goddard dropped. She begs the police to hurry. Cho hears Haas and shoots her, grazing her twice in the head. She falls and plays dead, though keeping the phone cradled under her head and the line open. Cho says nothing when he enters the room or during the shooting. (Three students who pretend to be dead survive.)
9:41 a.m.
A BPD dispatcher receives a call regarding the shooting in Norris Hall. The dispatcher initially has difficulty understanding the location of the shooting. Once identified as being on campus, the call is transferred to VTPD.
(The panel estimated that the shooting began at this time based on the time it took for the students and faculty in the room next door to recognize that the sounds being heard were gunshots, and then make the call to 911.)
9:42 a.m.
The first 911 call reporting shots fired reaches the VTPD. A message is sent to all county EMS units to staff and respond.
9:45 a.m.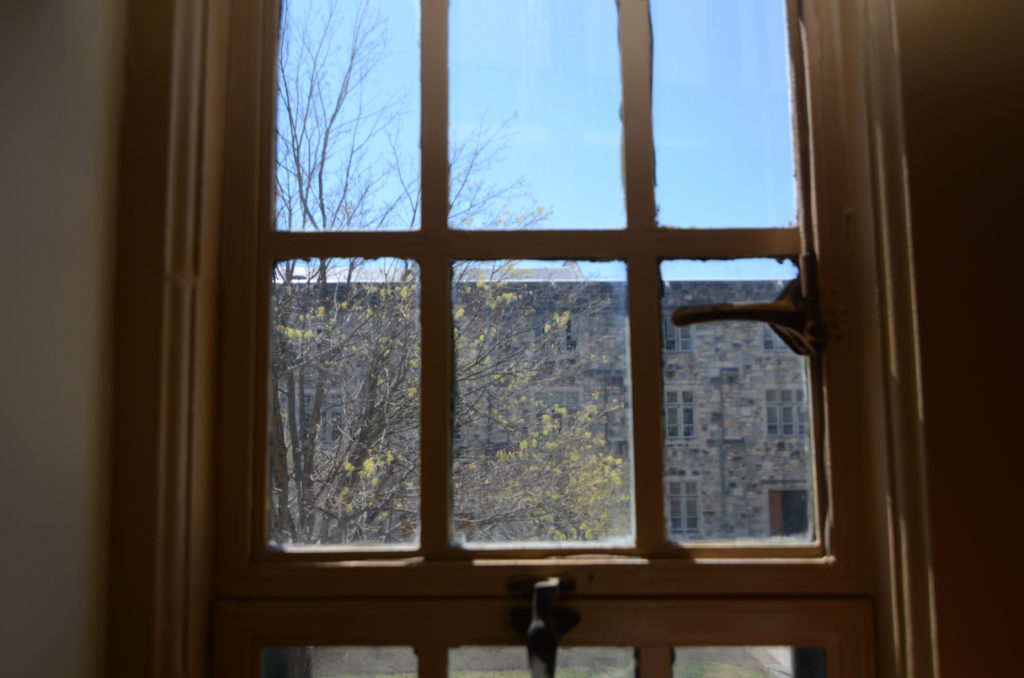 The first police officers arrive at Norris Hall, a three-minute response time from their receipt of the call. Hearing shots, they pause briefly to check whether they are being fired upon, then rush to one entrance, then another and then a third but find all three chained shut. Attempts to shoot open the locks fail.
About 9:45 a.m.
The police inform the administration that there has been another shooting. Virginia Tech President Charles Steger hears sounds like gunshots and sees police running toward Norris Hall.
Back in 207 Norris Hall, the German class, two uninjured students and two injured students go to the door and hold it shut with their feet and hands, keeping their bodies away. Within two minutes, Cho returns. He beats on the door and opens it an inch and fires shots around the door handle, then gives up trying to get in.
Cho returns to room 211, the French class, and goes up one aisle and down another, shooting people again. Cho shoots Goddard again twice more.
A janitor sees Cho in the hall on the second floor loading his gun; he flees downstairs.
Cho tries to enter room 204 where engineering professor Liviu Librescu is teaching mechanics. Librescu braces his body against the door, yelling for students to head for the window. He is shot through the door. Students push out screens and jump or drop to grass or bushes below the window. Ten students escape this way. The next two students trying to escape are shot.
Cho returns again to room 206 and shoots more students.
9:50 a.m.
Using a shotgun, police shoot open the ordinary key lock of a fourth entrance to Norris Hall that goes to a machine shop and that could not be chained. The police hear gunshots as they enter the building. They immediately follow the sounds to the second floor.
Triage and rescue of victims begin.
A second email is sent by the administration to all Virginia Tech email addresses announcing that "A gunman is loose on campus. Stay in buildings until further notice. Stay away from all windows." Loudspeakers broadcast a similar message.
Virginia Tech and Blacksburg police ERTs arrive at Norris Hall, including one paramedic with each team.
9:51 a.m.
Cho shoots himself in the head just as police reach the second floor. Investigators believe that the police shotgun blast alerted Cho to the arrival of the police. Cho's shooting spree in Norris Hall lasted about 11 minutes. He fired 174 rounds, killed 30 people in Norris Hall plus himself and wounded 17.
9:52 a.m.
The police clear the second floor of Norris Hall. Two tactical medics attached to the ERTs, one medic from VT Rescue and one from Blacksburg Rescue are allowed to enter to start their initial triage.
9:53 a.m.
The 9:42 a.m. request for all EMS units is repeated.
10:08 a.m.
A deceased male student is discovered by police team and suspected to be the gunman:
No identification is found on the body.

He appears to have a self-inflicted gunshot wound to the head.

He is found among his victims in classroom 211, the French class.

Two weapons are found near the body.
10:17 a.m.
A third email from the Virginia Tech administration cancels classes and advises people to stay where they are.
10:51 a.m.
All patients from Norris Hall have been transported to a hospital or moved to a minor treatment unit.
10:52 a.m.
A fourth email from the Virginia Tech administration warns of "a multiple shooting with multiple victims in Norris Hall," saying the shooter has been arrested and that police are hunting for a possible second shooter.
10:57 a.m.
A report of shots fired at the tennis courts near Cassell Coliseum proves false.
12:42 p.m.
Charles Steger announces that police are releasing people from buildings and that counseling centers are being established.
1:35 p.m.
A report of a possible gunshot near Duck Pond proves to be another false alarm.
5:00 p.m.
The first deceased victim is transported to the medical examiner's office.
8:45 p.m.
The last deceased victim is transported to the medical examiner's office.